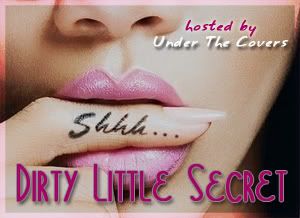 Dirty Little Secret is a weekly meme hosted by us at
Under the Covers
. Every Thursday we get to know other bloggers and our readers more intimately by asking them a question hoping to reveal their dirty little secrets. We hope that you will all join us!
This Week's Question
: If you could spend the day with your favorite heroine, who would you pick and what would you do?
Answer
:
The Red Reaper
, absolutely, she is interesting, witty and never has a bored moment. What would we do? We'd go vampire hunting ofcourse - though being a novice I'd ask her to take me to one of them small towns with young vampires.... I don't have a death wish you see. ;)
Booking Through Thursdays
is hosted by
Booking Through Thursdays
!
This Week's Question
: What's your book with weather events? Hurricanes? Tornadoes? Blizzards? Real? Fiction? Doesn't matter … weather comes up a lot in books, so there's got to be a favorite somewhere, huh?
Answer
: I have to say when the weather is stormy I go for darker books, by mood, not really into horror that is. I loved reading Twilight during one fall storm. Other good choices for stormy weather would J.R.Ward's
Black Dagger Brotherhood
, there is enough angst there and confliction emotions that it goes just perfectly, not to mention the yummy sexual tension! it's especially good choice as the brothers are only about at night, being vampires, it adds to the mix. Yes, most definately
BDB
!
Don't miss the Newest Giveaway, Paranormal YA,
HERE
.