[THE GIVEAWAY HAS CLOSED]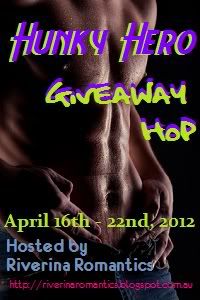 "So what is the 'Hunky Hero Giveaway Hop' all about? I thought it would be great for all of us to do a giveaway of the book with our favourite Hunky hero, not only to share the greatness with our followers, but to give everyone some great book recommendations."
So I'm not giving away ONE e-book but THREE!
Accidental Abduction
,
Intentional Abduction
and
Dual Abduction
are the three currently out short novels by Eve Langlais. She's created some truly unique Hunky Heroes! Sexy, built, little odd and purple! Here is an excerpt from
Accidental Abduction
!
With no warning, the wall slid open again and her dark pirate stepped in, his clear eyes glittering. He tossed something small at her and she lifted her hands to catch it—and missed. She'd never excelled at sports, outside the bedroom that was. Naked, she could keep up with any skinny bitch.
The little black object clattered to the floor and she heard an exasperated sigh. "Well, excuse me for not being Miss Agile. You try getting almost drowned by your boyfriend, sucked into some spaceship by a tractor beam, and then having some weird machine experiment on you. I guarantee your reflexes would suck, too."
He didn't reply, just crossed his arms across his massive chest and inclined his head at the object on the floor. She stooped to pick it up and turned it in her hand, not recognizing the item at all. "What is it?" Another sigh sounded followed by movement. She flicked her gaze at him and sucked in a breath as she discovered him coming at her, almost seven feet of bristling, purple alien pirate. In a disgustingly girly reaction, she backed up. He growled, and in reflex, she growled back. Her response made his brows shoot up. She couldn't help the smirk that crossed her face as she threw him off balance.
In a lightning quick move, his hand shot out toward her and she squeaked before she dashed behind the table she'd woken up on.
"Don't come near me," she yelled. "You—you giant, purple weirdo."
"Kddwol sgewo." He spoke gibberish again and motioned her forward with his hand.
She snorted. Not likely. He snarled, baring his pointed teeth. With nothing to protect herself, she threw the black thing at him. He caught it with a blurring movement of his hand and she gulped. He displayed remarkable reflexes. He moved around the table, and she shuffled her feet, keeping herself away.
It wasn't like her to act so cowardly, but truly, the guy—if an alien could be called a guy—was freaking huge, and he didn't look happy. She screamed when he leapt over the table and snagged an arm around her waist. She continued to shriek and thrash as he whirled her around. He yanked her back into his hard chest, his one arm an immovable anchor around her waist. His other hand fiddled at her ear, and she screamed. "Let go of me you freakish brute."
"Would you shut up, you annoying female, before I give into my first impulse to kill you."
As his words penetrated her panic, she stilled, her chest heaving. "I understood you," she whispered.
"Of course you did, silly human. If you hadn't panicked, like your kind are wont to do, I would have shown you how to insert the translator yourself."
"Well, how the hell was I supposed to know?" she snapped back. "It's not like I've ever met an alien before. In my world, we don't shove things in people's ears when we meet them for the first time."
"Yes, I am well aware of your planet's barbarian status," he retorted with a disgusted snort.
"What?" she sputtered. "Look who's calling the kettle black. I'd say you aren't that far from caveman status yourself."
"I knew I should have killed you," he grumbled from behind her.
It occurred to Megan that perhaps she should shut up for a moment before he acted on his words. The silence, though, made her aware of where she stood, more against whom. Pressed against her back, the alien heated her even through the fabric separating them. The palm pressed against her stomach branded her through the thin linen shirt and held her firmly against him. She wiggled in a sudden attempt to get away, but this served only to have him bring her closer and her eyes widened as she felt something poking her in the back. That better not be what I think it is.
Instead of smartly shutting up, she took in a breath. "Oh, no fucking way. If you think I'm going to service you sexually, you are out of your mind. I don't bang guys I don't know, and that goes double for aliens. I don't care if you accidentally rescued me."
He thrust her from him and snorted. "You think highly of yourself, female, if you think I would stoop to copulating with your pale form. Your mouth alone is enough to shrivel any man's cock."
Megan whirled and planted her hands on her hip. "Pale? I'm the one with some normal color here instead of freaking purple. And I'll have you know, my mouth has never received any complaints; on the contrary, my oral techniques are well known among my lovers." When his lips twitched into a partial grin, she grasped what she'd said and red heat rose up her neck to color her cheeks. However, she didn't cower or run. She stood straighter and faced him with a glare.
This Giveaway is International! You must have
"All Romance E-books" account
(
it's free to sign up, they offer Kindle, and other e-book options
) or Amazon Kindle to receive the e-books. Mandatory entry: Follow my Blog. Best points: answer this question:
"What do you think makes a hero sexy?"
a Rafflecopter giveaway